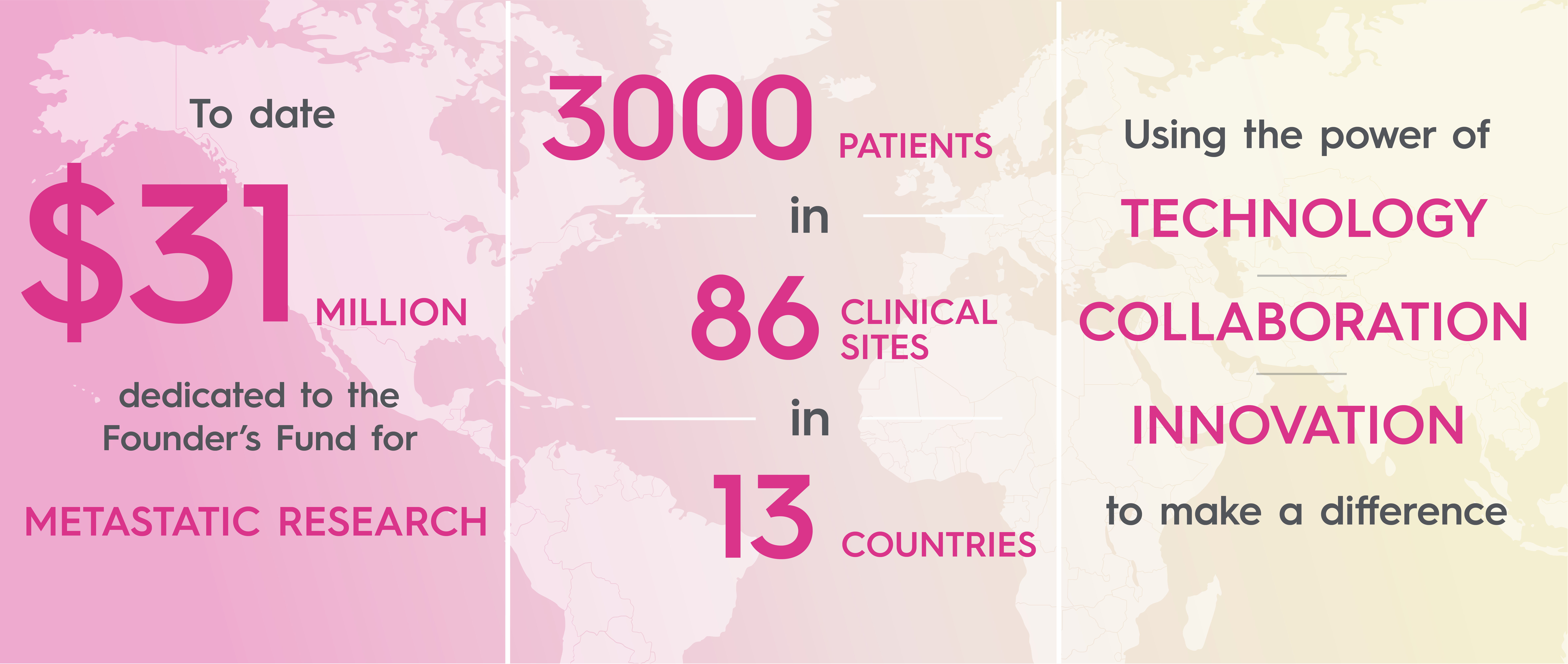 One in eight women in the U.S. will develop breast cancer in her lifetime. For 25‑30 percent of them, the cancer will spread, or metastasize. While there has been significant progress in early detection and treatment for primary breast cancer, advances in treatment and prevention of metastasis are lagging behind. Today, an estimated 168,000 women and men in the U.S. alone are living with metastatic breast cancer.
In 2013 BCRF, under the direction of our Founding Scientific Director Dr. Larry Norton and former Chairman of our Scientific Advisory Board Dr. Clifford Hudis, established a dedicated initiative to address the persistent challenges of breast cancer metastasis. This initiative, now known as the Evelyn H. Lauder Founder's Fund for Metastatic Breast Cancer Research was fueled by an outpouring of support honoring the memory and immutable determination of BCRF's founder, Evelyn H. Lauder following her death in 2011.
No topic in cancer medicine is more pressing and no opportunity more significant than understanding and stopping metastasis.  The Founder's Fund, an international, multi-year collaboration, is the cornerstone of BCRF's overall investment in metastatic breast cancer, which in 2020, represents nearly 40 percent of our $40 million research grant portfolio. BCRF investigators from around the world are using the most advanced tools of molecular analysis--some developed with BCRF support--to dissect the molecular basis of metastasis, in real people in real time. These efforts are providing new insights, such as: what makes some cancers metastasize, while others do not; why some patients respond very well to therapy and others, who would be expected to, do not; and most importantly, how we can use this knowledge to predict, treat, and even prevent the spread of breast cancer. BCRF has dedicated $31 million to this important initiative to date.
The flagship programs of the Founder's Fund are: AURORA EU, based in Brussels and conducted under the oversight of Dr. Martine Piccart though the Breast International Group (BIG) and AURORA US, coordinated by Dr. Nancy Davidson with clinical aspects being administered by Drs. Antonio Wolff and Ian Krop through the Translational Breast Cancer Research Consortium (TBCRC), based at Johns Hopkins University. The objective of the AURORA programs is to conduct precise molecular analyses of breast cancer metastases and of the primary tumor to better understand the evolution of metastasis and the mechanisms of drug resistance that allow tumors to grow and spread.
AURORA EU benefits from the collaborative infrastructure of BIG, the world's largest network of international academic research groups, comprised of 55 groups across 50 countries and six continents. The study will recruit 1,000 patients (women and men) with metastatic breast cancer. With 63 clinical sites across 12 European countries recruiting, they are on track to meet this goal in early 2020.  Tumor samples, blood, serum, and plasma samples are being analyzed to identify genes and gene-outputs driving metastasis and blood-based biomarkers that can be used to non-invasively determine tumor progression and response to treatment. These efforts will lead to more efficient clinical trials and better management of metastatic breast cancer. The biospecimens collected will provide a valuable resource for continued translational studies.
2019 Update: An early analysis of the first 381 patients out of a planned 1,000 was presented at ESMO Breast Cancer Congress in May 2019. The researchers found genomic alterations in metastatic tumors that may play a role in the spread of cancer and resistance to treatment. Analyses are ongoing with a planned follow-up of study participants for the next ten years (2030).
Read the ESMO 2019 press release here.
AURORA US utilizes the extensive clinical trial infrastructure of the TBCRC, a model clinical trials program accelerating advances in breast cancer care. The TBCRC unites researchers across 19 clinical sites to conduct trials that integrate clinical and laboratory studies. The leadership of AURORA US includes a steering committee (Drs, Nancy Davidson, Larry Norton, Charles Perou, Sue Hilsenbeck, Lisa Carey, and Antonio Wolff) and working groups (WG) led by Fraser Symmans, MD and Andrea Richardson, MD, PhD (Pathology WG); Charles Perou, PhD and Elaine Mardis, PhD (Molecular WG); Tari King, MD and Minetta Liu, MD (Clinical WG); Shirley Mertz and Patty Spears (Patient advocate WG).
The AURORA US study has two components, a retrospective analysis of primary and metastatic tumors and a prospective clinical trial. In the first report from the retrospective phase of the study, archived tissue samples from the primary tumor and at least one distant metastasis were collected from 55 patients at ten institutions of the TBCRC. Reporting at the San Antonio Breast Cancer Symposium, researchers identified molecular alterations–unique to each breast cancer subtype–in the metastatic tumor when compared to the matched primary breast cancer. Read the full SABCS 2019 press release here.
The prospective clinical trial will enroll at least 200 patients. Fifteen more TBCRC sites are expected to open this prospective trial in 2020, with two currently open for accrual. For more information on the study and locations, visit www.auroraus.org.
Corollary Studies
While the AURORA studies are the flagship of the Evelyn H. Lauder Founder's Fund, additional projects augment the efforts of the AURORA groups to help accelerate discoveries. Related projects include:
Molecular characterization of breast cancer brain metastasis: Led by Dr. Priscilla Brastianos, this project aims to grasp the molecular underpinnings of breast cancer that has metastasized to the brain. To date, Dr. Brastianos has
Completed genomic analysis of 250 matched brain metastases and primary breast cancer samples,
Developed more than 100 patient-derived breast cancer brain metastasis laboratory models,
Launched a new clinical trial to test targeted therapies in patients with brain metastases.
MBC Project. Harnessing the power of social media to engage patients in research. This collaborative project, led by Dr. Nikhil Wagle, harnesses the power of social media to build an online registry, generating a large, publicly available database of clinical, genomic, molecular and patient-reported data to accelerate discoveries and develop novel treatment strategies for metastatic breast cancer. BCRF support is directed to:
Increasing enrollment of African American patients,
Applying machine learning and artificial intelligence technologies to abstract data from medical records of 1,5000 MBC project participants
Integrating and analyzing clinical, genomic, pathologic and patient reported data from over 500 patients with MBC.
New research resources. BCRF investigator Matthew Ellis led a team of five investigators including Michael Lewis (Baylor College of Medicine), Shunqiang Li (Washington University, St. Louis), Jorge Reis-Filho (Memorial Sloan Kettering Cancer Center) and Alana Welm (University of Utah, Huntsman Cancer Institute) to develop an experimental model system that precisely mimics human breast metastases and an open access online database of metastases models. This completed project led to the development of
36 patient-derived models and matched primary metastasis pairs
An open access database of metastasis models, the BCRF PDX cBioPortal
The talent and dedication of the international experts involved assure the success of the Evelyn H. Lauder Founder's Fund Project. None of it would be possible without the generous support of BCRF donors. With your help we honor Mrs. Lauder's vision in the best way possible: research to defeat disease.