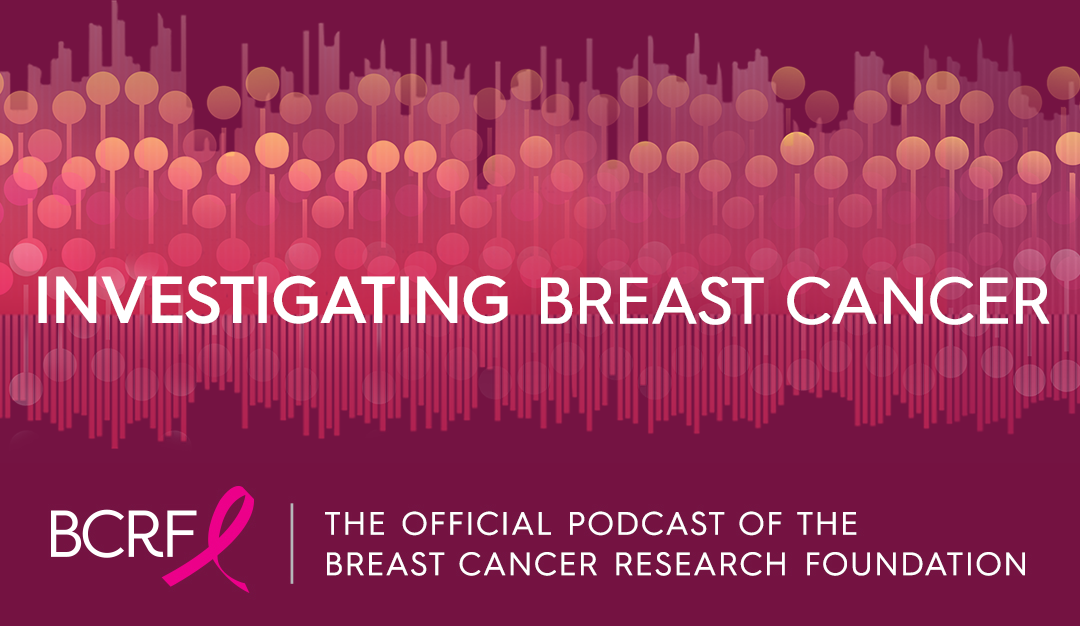 Investigating Breast Cancer, the official podcast of the Breast Cancer Research Foundation, examines the latest in breast cancer news with the most respected minds in science.
The series contains insightful conversations with BCRF's scientific leadership and features experts that are taking part in groundbreaking science every day. As the only organization dedicated exclusively to breast cancer research, BCRF's podcast reflects a multitude of hot topics, examining the promise of scientific discovery. Simply search for Investigating Breast Cancer and subscribe to the channel in your Podcast app, available through any of the players below: 
Check out our full library of podcast conversations below.
Dr. Sonya Reid (click through for full transcript)
Dr. Hyman Muss (click through for full transcript)
Dr. Hope Rugo (click through for full transcript)
Dr. Dawn Hershman (click through for full transcript)
Dr. Elisa Port (click through for full transcript)
Dr. Josuha LaBaer (click through for full transcript)
Dr. Mehra Golshan (click through for full transcript)
Dr. Lori Pierce (click through for full transcript)
Dr. Vered Stearns (click through for full transcript)
Dr. Funmi Olopade(click through for full transcript)
Dr. Antonio Wolff (click through for full transcript)
Dr. Judy Garber (click through for full transcript)
Dr. Mark Robson (click through for full transcript)
Dr. Ann Partridge (click through for full transcript)
Dr. Eric Winer (click through for full transcript)
Dr. Walter Willett (click through for the full transcript)
Dr. Luca Gianni (click through for the full transcript)
Dr. Susan Horwtiz (click through for the full transcript)
Dr. Ben Park (click through for full transcript)
Dr. Hedvig Hricak (click through for full transcript)
Dr. Alan Ashworth (click through for full transcript)
Dr. Jack Cuzick (click through for full transcript)
Dr. Jedd Wolchok (click through for full transcript)
Dr. Peter Kuhn (click through for full transcript)
Dr. Debra Barton (click through for full transcript)
Dr. Arti Hurria (click through for full transcript)
Dr. Mina Bissell (click through for full transcript)
Dr. Charles Perou (click through for full transcript)
Dr. Judy Garber (click through for full transcript)
Dr. Marc Hurlbert (click through for full transcript)
Dr. Larry Norton (click through for full transcript)