The sprawling campaign involved numerous gaming communities and Discord partners who hosted 16 events in support of BCRF
The popular communications service Discord offers people all across the world a way to connect and deepen relationships. More than 140 million people stay in touch with family and friends and meet others through its millions of diverse, topic-based channels or communities.
To celebrate International Women's Day and Women's History Month in March, Discord brought together several of its communities and creators, along with leading video game company, Ubisoft, and the AC Sisterhood, to raise an incredible $142,336.50 for lifesaving breast cancer research.
Throughout the 26-day monumental campaign, 10 Discord communities hosted a total of 16 wide-ranging events featuring livestreaming, tabletop gaming, arts and crafts, conversations, and more. To advance its efforts to support women's causes, Discord committed to matching all donations up to $60,000 and hit its fundraising goal just one week after the March 5 launch.
"Discord was so proud to partner with BCRF for our International Women's Day campaign," said Mindy Day, senior manager, community at Discord. "We were thrilled to be able to make our full $60,000 match, collectively raising more than $140,000 in support of lifesaving research for BCRF."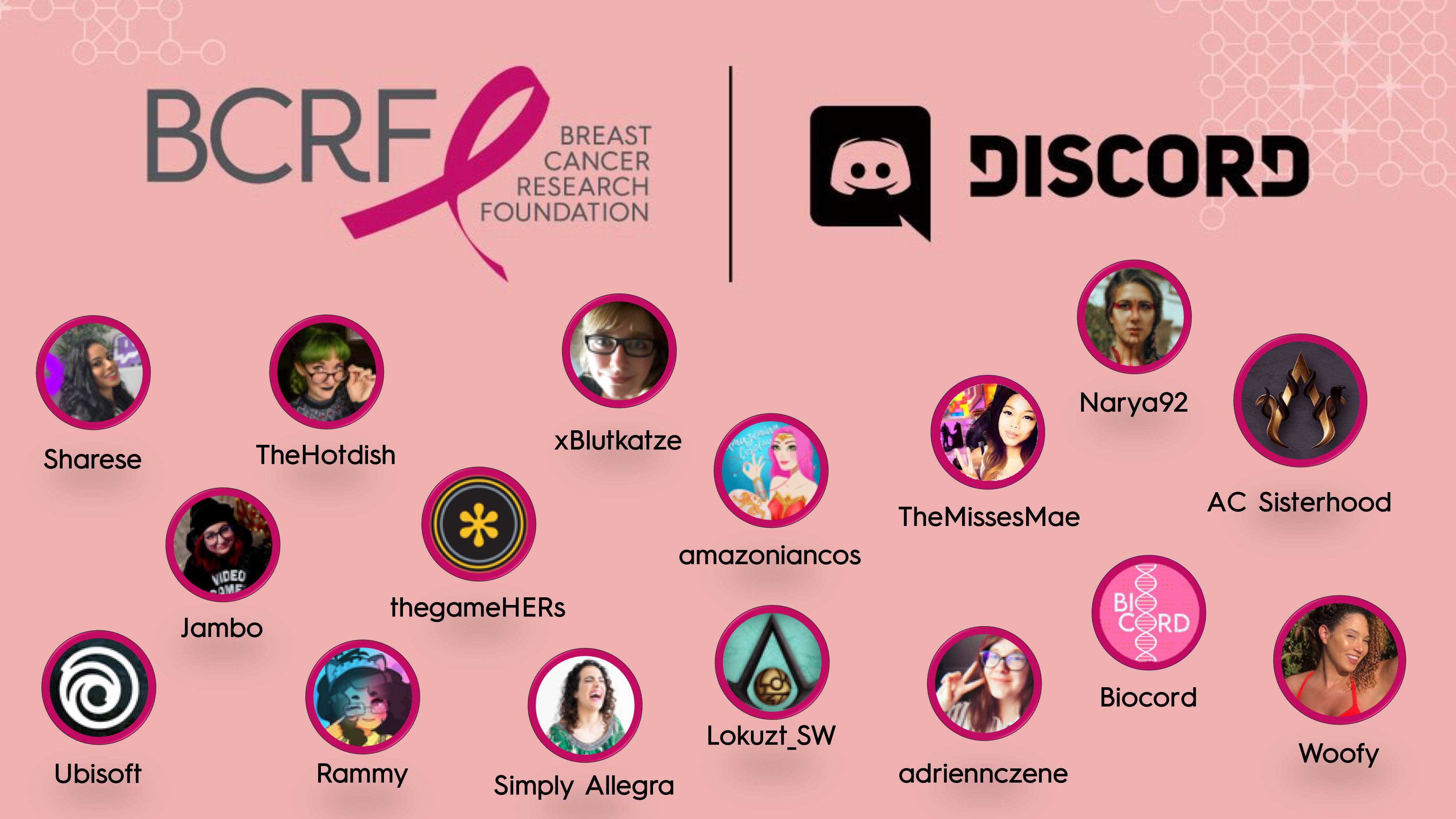 Members of the women-led AC Sisterhood not only livestreamed Assassin's Creed play, but also highlighted creators' non-gaming talents including embroidery and digital artwork. Ubisoft hosts incentivized viewers' donations by playing one-handed and doing squats on screen.
"Breast cancer affects people all over the world, including many among Ubisoft's teams and the Assassin's Creed community. It was an honor to be part of the fundraiser and contribute to the advancement of breast cancer research," the Assassin's Creed Community Team said in a statement. We're grateful to all the viewers who tuned into our stream and donated, and we're so proud of the Ubisoft team members and the community that came together to make it a success."
Among other highlights from the event: Biocord, Discord's biology-focused server, hosted a live "ask me anything" (AMA)–style chat with Margaret Flowers, PhD, managing director of BCRF's research program, about breast cancer and research. Another women-led gaming group, the*gameHERs, hosted three days of fun tabletop gaming where viewers could influence gameplay with donations.
"I had an amazing time organizing this fundraiser with the teams at Discord, BCRF, and Biocord," said Anshit Singh, Biocord's community lead. "We truly learned so much from this experience and inspired hundreds of young/future scientists to keep working and help society with their curiosity."
To further make the campaign a success, BCRF provided participating groups with a toolkit complete with fundraising guidance, on-screen assets, and more. Discord generously supplied giveaway incentives for communities to use to enhance their fundraising efforts.
This partnership will not only fund more than 2,800 hours of critical breast cancer research in a BCRF-supported lab, but it spread the Foundation's lifesaving mission to millions of new people around the globe at a time when breast cancer has become to most commonly diagnosed cancer worldwide.
"We're still in awe of how our community responded to raise money for this important cause and the fun, delightful moments they created along the way," Day said.
Find out more about how you can stream in support of breast cancer research here.