Melanie Lynn Penn and Jessica Fox found a meaningful way to honor BCRF ambassador Emily Garnett's legacy and raise nearly $4,000 for research
In 2019, Melanie Lynn Penn met Emily Garnett through the power of social media. They instantly connected—sharing the same sense of humor and a desire to further breast cancer research and activism.
Melanie is an artist, breast cancer previvor, and creator of the Word Women project, a series of illustrations of women—most of them impacted by the disease—filled in with words and phrases that were important to them. Emily was then a BCRF ambassador living with metastatic breast cancer and had herself been part of the Word Women series.
Melanie remembers how contagious Emily's laugh was, and when they met in person for the first time, they couldn't contain their joy. During one of their last conversations, Emily asked Melanie if she could make a blanket with all of the women she had drawn.
"I had no idea how I would do that and put the idea to the back burner—until Em died from the disease," Melanie said.
After Emily died in March 2020, Melanie started working to make Emily's vision a reality, but she needed help. After putting a call out on her Instagram for quilters, she connected with Jessica Fox, a breast cancer survivor who took up quilting during treatment as a hobby.
"[Quilting] is my way of warming someone's soul," she said. "My quilting teacher told me that the imperfections in a quilt are what makes it beautiful. Quilting taught me to embrace the parts of me that are imperfect as well."
After seeing the pain that Emily's death brought to the breast cancer community, Jessica knew she wanted to be a part of this project, and she and Melanie got to work finding a company to custom print fabric and order supplies.
The finished quilt contains squares with illustrations of 102 women from the breast cancer community, including Melanie, Jessica, and Emily, who is featured prominently at the center of the design. Melanie and Jessica knew that they wanted to use the quilt to raise money for breast cancer research. Hosting a raffle for BCRF—a Foundation close to Emily's heart—was a no-brainer.
After a few weeks and nearly $4,000 raised for research, the raffle winners were randomly chosen and, by chance, ended up having a connection to Emily: JoLynne and David Johnson, parents to Amanda Johnson, a dear friend of Emily's and a BCRF team member. Amanda was first inspired to join BCRF because of Emily's passion for the Foundation's mission, and David and JoLynne have regularly donated to BCRF in honor of Emily. Upon hearing they had won, the Johnsons immediately decided to gift the quilt to Emily's parents, Barbara and Brian Rees. Through this kindness, they now have another special memory of their daughter Emily and a reminder of the incredible impact she made in the breast cancer community.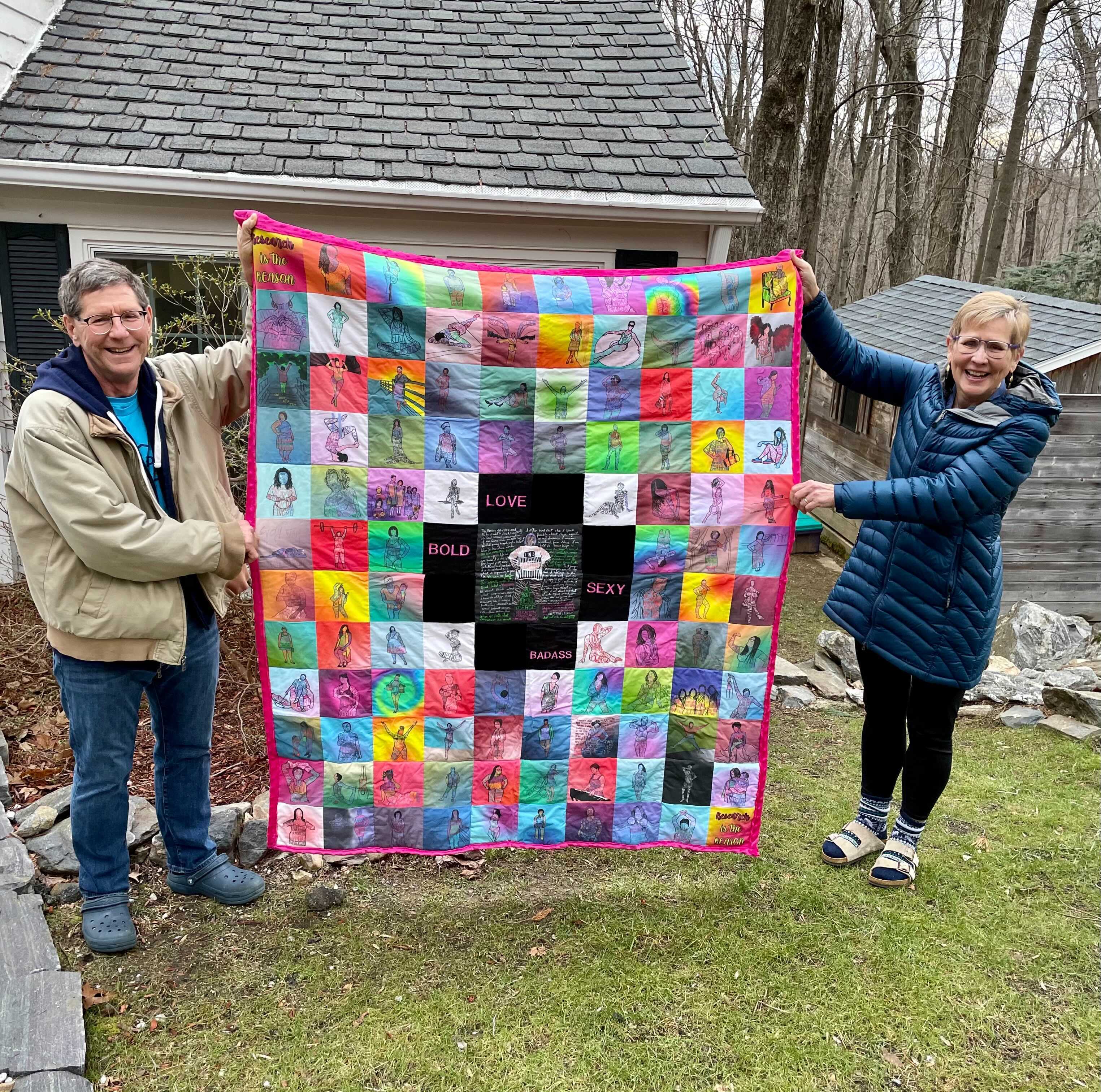 Jessica and Melanie poured their hearts into this project to honor Emily's legacy—and everyone impacted by breast cancer.
"This was the most emotionally intense project I have ever pursued, and seeing it finished makes the many tears and many hours completely worth it," Melanie said. "I think Emily would have been so, so happy to see her idea become reality. BCRF and research were both so important to her, and I think she would have been super excited to see something not only fund research, but that shows the realities people face living with breast cancer."