Researchers acknowledged for their incredible contributions to breast cancer
Every year at the annual San Antonio Breast Cancer Symposium, the world's largest international conference devoted to breast cancer, several researchers receive awards for their outstanding contributions to breast cancer research.
BCRF is proud to share that the following three BCRF researchers were among those honored with some of the conference's top honors: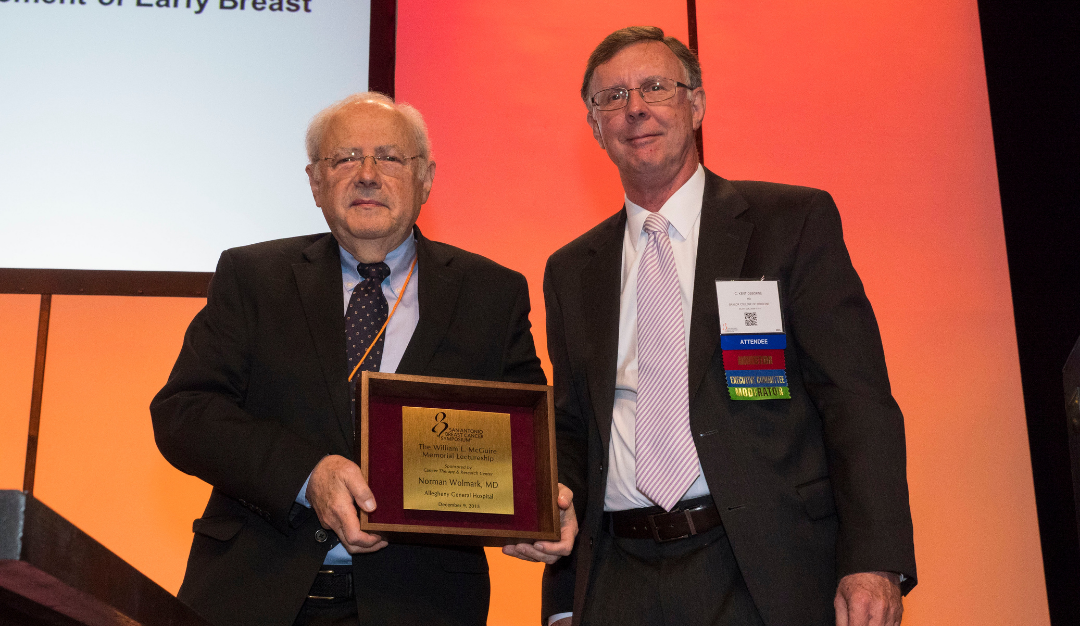 Dr. Norman Wolmark received the Brinker Award for Scientific Distinction in Clinical Research at this year's conference for his contributions to patient care—most notably pioneering more effective and less aggressive options for treating breast cancer. For more than 20 years, he has chaired the National Surgical Adjuvant Breast and Bowel Project (NSABP), a not-for-profit academic research organization that has spearheaded groundbreaking clinical advancements in breast and colorectal cancer treatment and management.
In his award lecture, Dr. Wolmark took the audience on a historical journey through the last several decades of research progress that has improved outcomes for patients with breast cancer. Dr. Wolmark paid homage to the invaluable work the NSABP has conducted during the 60 years since its founding, including landmark studies that demonstrated less-aggressive surgery was equally effective at preventing recurrence as radical mastectomy, the standard surgery at the time. He "passed the baton" to the next generation of breast cancer researchers and noted that patients are the heroes in this journey. As a testament to his superb lecture and outstanding contributions, Dr. Wolmark received a standing ovation.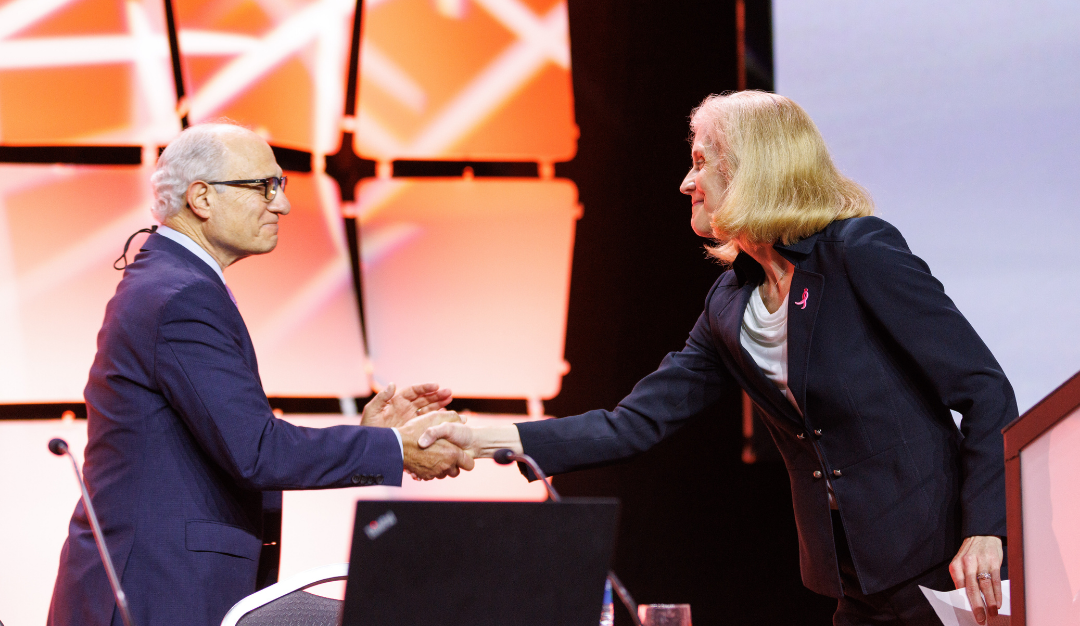 Dr. Geoffrey Wahl was honored with the Brinker Award for Scientific Distinction in Basic Science for his role in identifying the genetic drivers of breast cancer. In his award lecture, Dr. Wahl discussed his work in tumor heterogeneity, its contribution to genetic instability, and how loss of p53 reprograms cancer cells to revert to a less mature state, making them more difficult to target and treat. This cutting-edge research advanced our understanding of how breast cancer develops. Ongoing studies are revealing factors that make these less-mature cells targetable to potentially open the door for new future treatment strategies.
Dr. Wahl graciously accepted this honor and acknowledged the many collaborators and postdoctoral fellows that contributed to his seminal work.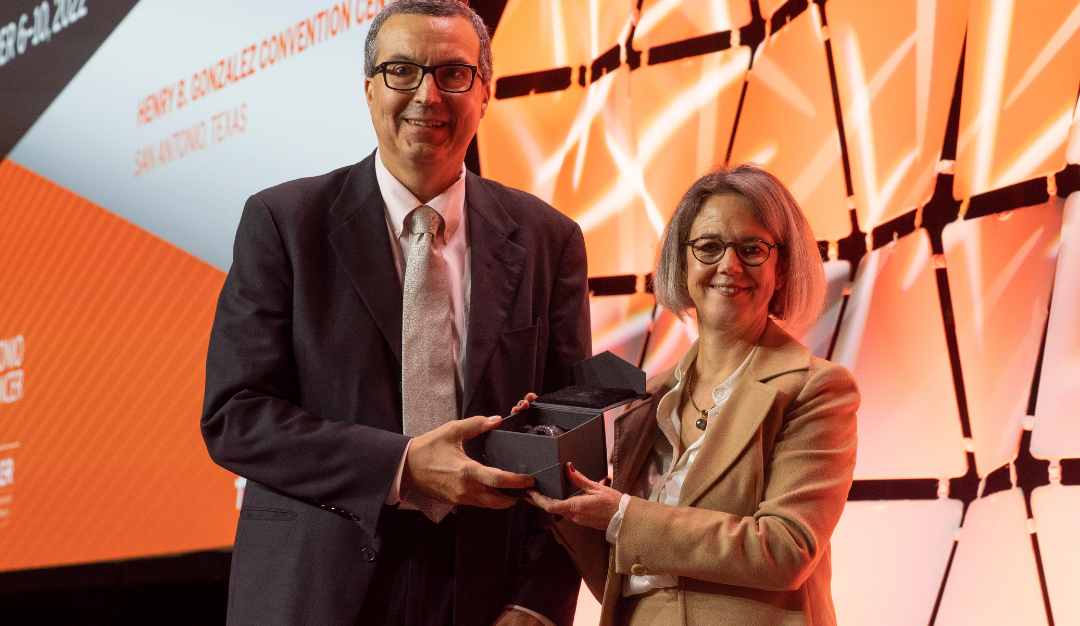 The AACR Distinguished Lectureship in Breast Cancer Research was awarded to Dr. Charles Perou, a renowned leader credited with characterizing the molecular subtypes of breast cancer along with other groundbreaking discoveries in cancer genomics. With this award, Dr. Perou was recognized for using the latest technological advances to revolutionize treatment and his pivotal work in translating basic research discoveries into clinical assays used globally today, such as the Prosigna® Breast Cancer Assay for early-stage breast cancer.
Dr. Perou's lecture detailed how work to define intrinsic breast cancer subtypes led to biomarker discoveries that guide treatment decisions in the clinic. In addition, he noted that multiple clinical trials have been conducted based on these findings, including those led by fellow BCRF investigator Dr. Lisa Carey. Dr. Perou rounded out his talk by summarizing recent research to define immune cells that surround the tumor as markers that may predict how patients will respond to therapies.
BCRF celebrates these awardees and acknowledges their meaningful contributions that provided the foundational support for past and recent advancements in breast cancer research and clinical care—support that will surely inform future progress.
At SABCS, BCRF also sponsored awards to other researchers moving the field forward. BCRF congratulates the following recipients:
Dr. Adetunji Toriola from the Washington University School of Medicine received the 2022 AACR Outstanding Investigator Award underwritten by BCRF. This award is given to researchers under the age of 50 who have made notable contributions to breast cancer research. Dr. Toriola's studies focus on ways to decrease breast density, a known risk factor for breast cancer.    
BCRF is also pleased to recognize the work of two early-career clinical researchers in geriatric oncology: Dr. Jingran Ji of City of Hope and Dr. Qi Wu of Katholieke Universiteit in Belgium. Drs. Ji and Wu were the 2022 recipients of the SABCS Arti Hurria Travel Award underwritten by BCRF in memory of Dr. Hurria, a pioneer in geriatric oncology.
More from BCRF's SABCS 2022 Coverage: