$5 million and seven projects focused on preventing life-threatening breast cancers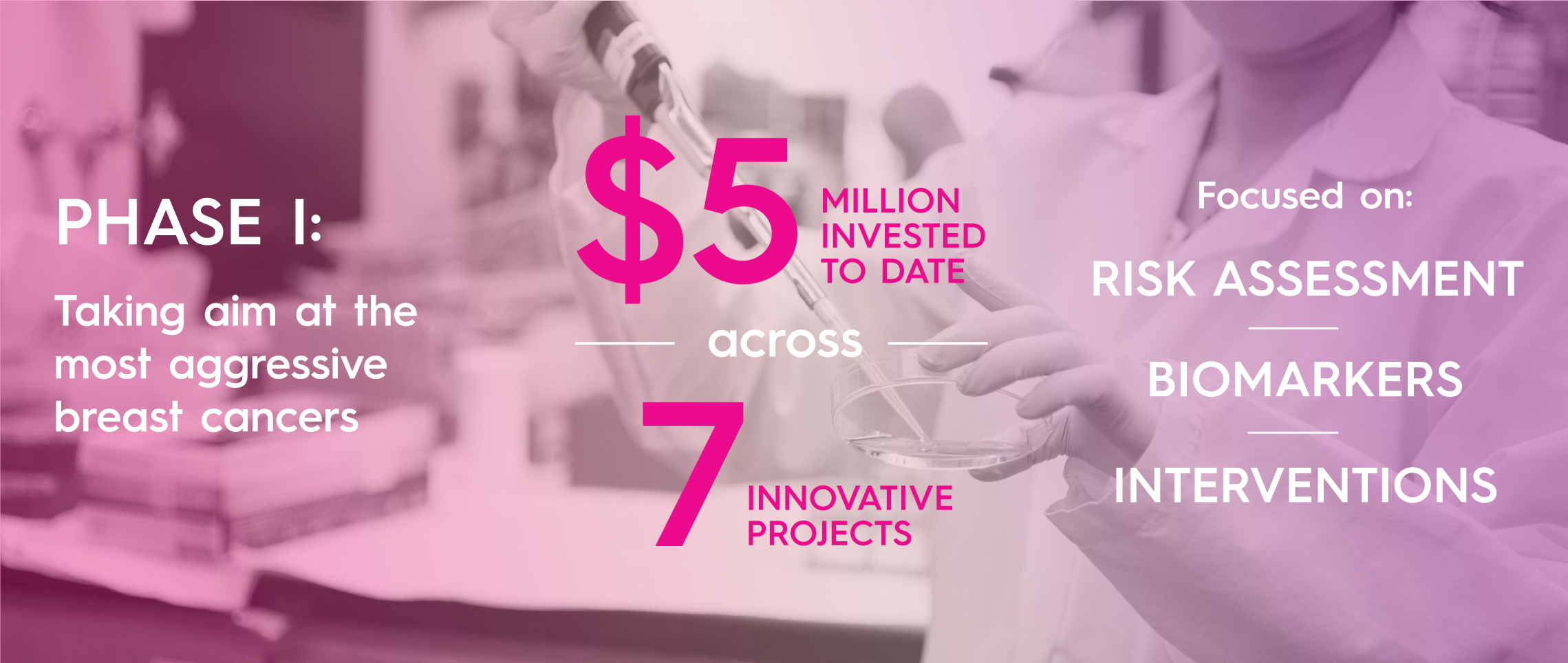 Breast cancer mortality is at its lowest level in 30 years. This progress has largely been fueled by advances in early detection and treatment. In contrast, our approach to cancer prevention has not progressed at nearly the same rate, as illustrated by the steady rates of breast cancer incidence over the same period. BCRF embarked on a bold new initiative in 2019 to apply the principles of precision medicine to prevention research to address this underfunded area of research. With an initial $5 million investment by Blizzard Entertainment, the Precision Prevention Initiative (PPI) challenges the research community to take a new look at prevention research.
"We envision a future where doctors customize a prevention plan based on an individual patient's biology, history and lifestyle—to stop cancer before it starts," said Dr. Dorraya El-Ashry, BCRF's chief scientific officer.
The Precision Prevention Initiative (PPI) was conceived out of this vision. The overarching goal of this multiyear program is to fuel innovation by challenging the research community to think big—to explore new emerging technologies and multidisciplinary approaches that get answers in less time, to identify new ways of examining data, and to build or enhance infrastructure, resources and technologies that accelerate breast cancer prevention research for years to come.
"There is an enormous opportunity for multidisciplinary research in breast cancer prevention," said Dr. Judy Garber, BCRF's scientific director. "Just as emerging technologies are transforming precision medicine, this new initiative is capitalizing on these new techniques and discoveries to reduce the incidence of breast cancer with all possible speed."
BCRF's 2019-20 PPI awards specifically focus on prevention of aggressive breast cancers—those most likely to be lethal—such as triple-negative and BRCA-driven breast cancers. Collectively, they will improve our understanding of the underlying biology of aggressive breast cancers and will help identify individuals who are at increased risk of a life-threatening breast cancer diagnosis. In this first phase of the PPI, BCRF offered both multi-year awards and one-year pilot studies.
Meet the PPI Investigators and Their Projects
Multi-year projects
A mammogram only tells part of the story. Dr. Constance Lehman and her colleagues will harness the power of artificial intelligence and machine learning to uncover hidden clues in mammograms. They will couple this technology with a rich source of patient data to develop a precise risk assessment model that identifies those at risk of developing any type of breast cancer, including the most aggressive.
Risk stratification is the start of the road map to breast cancer prevention. We have a detailed understanding of certain genetic and non-genetic risk factors that are helpful in predicting breast cancer in general. But there is less information to predict the most dangerous kind of breast cancer, known as triple-negative breast cancer (TNBC). Dr. Mark Robson and his colleagues are using imaging-coupled artificial intelligence and machine learning to identify features of normal breast tissue that are associated with TNBC. This information will be used to develop a TNBC-specific Risk Score that Dr. Robson's team plans to test in women newly diagnosed with TNBC. Read about Dr. Robson's other BCRF-supported research here.
TNBC is an aggressive breast cancer with limited treatment options, making prevention of TNBC a priority of the PPI. Dr. Robert West will leverage an existing database of premalignant lesions to develop a genomic atlas of TNBC. His goal is to identify  genomic and cellular factors driving progression of premalignancies to TNBC.  Findings could lead to a new class of targets or new strategies for prevention of this aggressive breast cancer.
Pilot projects
Breast feeding is known to protect against breast cancer. Dr. Doris Germain recently identified a key factor activated during lactation that plays a role in reducing breast cancer risk. Her PPI pilot project builds on this discovery with the goal of developing lactation replacement therapy as a personalized method of prevention. Watch this interview with Dr. Germain to learn more.
Women who carry a mutated BRCA gene have a high risk of breast cancer. BRCA-driven breast cancers are more likely to occur at a young age and can be very aggressive. However, not all BRCA mutations carriers will develop breast cancer. Dr. Harikrishna Nakshatri is studying the differences in normal breast cells in BRCA mutation carriers and non-carriers to identify biomarkers that may help predict the risk of breast cancer and inform early detection as well as non-invasive prevention strategies.
Antiestrogen therapies such as tamoxifen, aromatase inhibitors and fulvestrant are effective preventive medications for certain breast cancers, but they require long-term use and have side effects that make it difficult for some women to complete therapy. Additionally, they do not work to prevent ER-negative breast cancer. Alternatives to hormone-based chemoprevention will provide options to women at high of risk of developing breast cancer—and especially the aggressive forms that are not prevented by antiestrogens. Two PPI pilot studies are testing other potential drug targets for breast cancer prevention:
Dr. Yi Li has identified a target protein called BCL2 that plays a role in the early development of breast cancer. In his pilot PPI study, he will test drugs that block BCL2 to build a case for a larger study to test anti-BCL2 drugs for breast cancer prevention.
 
Dr. Marc Lippman's laboratory has been studying another protein called RAGE that is particularly abundant in aggressive breast cancers. In his PPI pilot study, his group is testing the role RAGE plays in the earliest phases of breast cancer development to determine whether it may be a suitable target for breast cancer prevention. Read more about Dr. Lippman's ongoing BCRF research here.