HER2-positive breast cancer
Once a disease with poor prognosis, HER2-positive breast cancer is now a very treatable breast cancer. In early stage HER2 breast cancer, the challenge facing clinicians is selecting the most efficacious therapy from the many options available. In metastatic disease, dual HER2 targeting (combining two targeted HER2 agents) is showing improved outcomes and may reduce the need for, or duration of chemotherapy, but is this approach appropriate in early stage disease?
 The APHINITY trial is a randomized controlled trial testing the addition of pertuzumab (Perjeta®) to standard adjuvant therapy –trastuzumab(Herceptin®) plus chemotherapy– in patients with HER2-positive breast cancer. In preliminary analyses at 3 years of follow up, study investigators reported that pertuzumab improved invasive disease free survival compared to the standard regimen, but noted that patients in the control arm also fared better than expected. Presenting the data for the German Breast Group Research Institute, Dr. Gunter von Minckwitz, noted that effect of pertuzumab was more pronounced in patients with lymph node involvement and/or tumors lacking the estrogen receptor (ER-negative).
Similarly, a ten year analysis from the ALTTO study, which compared the addition of lapatinib to trastuzumab either in combination or sequentially along with chemotherapy also reported a stronger benefit of the dual HER2 agents in patients with ER-negative breast cancer.
Summarizing the data from these trials, BCRF investigator Dr. Lisa Carey emphasized the need to be rational in prescribing available therapies and to identify patients for whom the dual HER2 targeting adds benefit to justify the added cost. A case in point is illustrated by results from the Adjuvant Pactlitaxel and Trastuzumab (APT) trial in node-negative, HER2+ breast cancer. At seven years of follow up, 96-99 percent of these low-risk patients had not relapsed.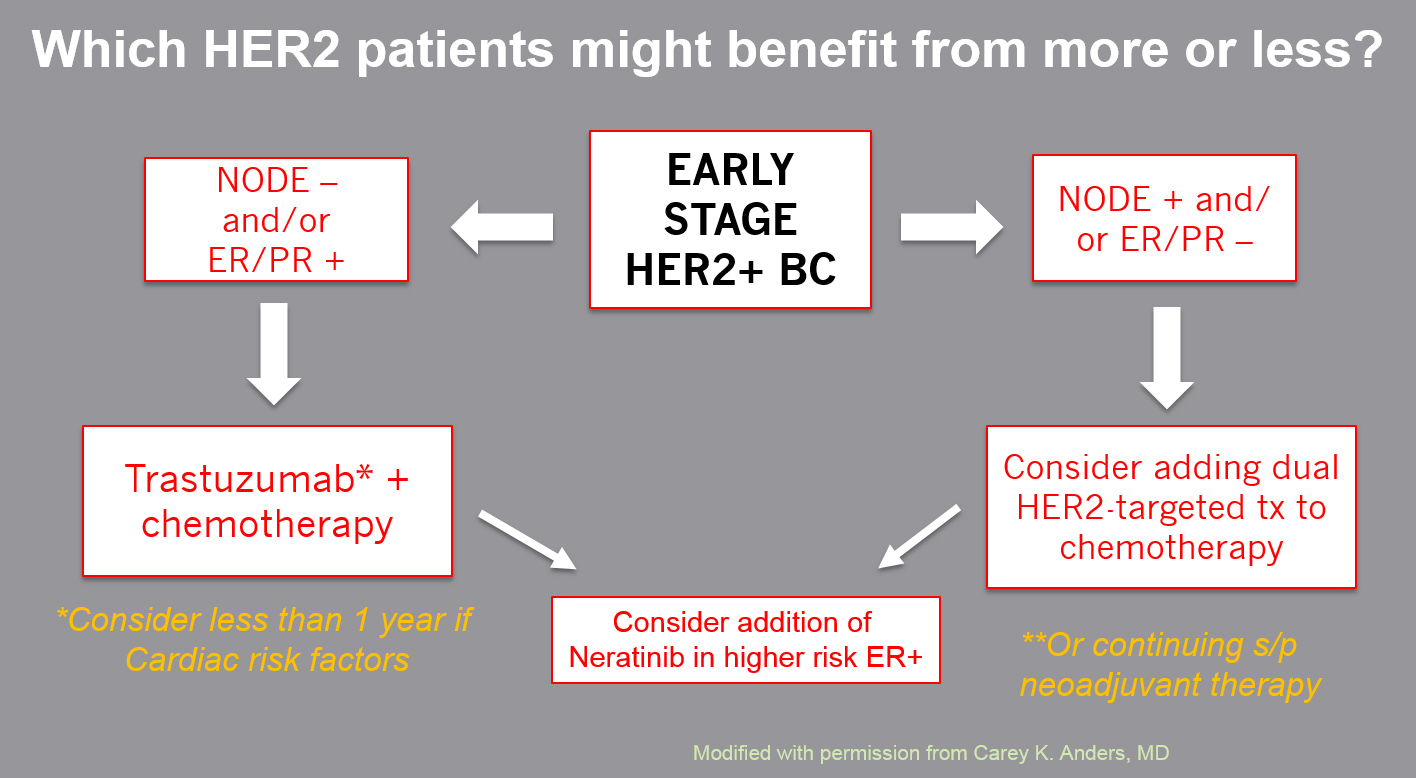 image courtey of Carey Anders, MD
Triple negative breast cancer
Unlike HER2-positive breast cancer, there are very few treatment options, other than toxic chemotherapy, for early-stage triple negative breast cancer (TNBC). The development of targeted therapies for TNBC has been hampered by the biologic and histologic diversity seen in these tumors. There is a concerted effort to find less toxic therapy regimens, but to date, these efforts have met with limited success.
That may be changing for a subset of TNBC tumors that have a high presence of immune cells called tumor infiltrating lymphocyte (TILs). In an update from the I-SPY2 trial group, 71 percent of patients (15/21) receiving the anti-PD-1 agent pembrolizumab (Keytruda®) in combination with paclitaxel prior to surgery experienced a pathological complete response compared to 19 percent (16/83) receiving paclitaxel alone. A similar but less dramatic effect was seen in HER2-negative/ ER-positive breast cancers.
By design, I-SPY2 study results are not definitive, but estimate the likelihood that a drug will outperform the standard of care in larger studies. Based on the current estimates, study investigators predict a more than 99 percent probability that adding pembrolizumab would be superior to chemotherapy alone in a phase III trial for TNBC.
Summarizing this study, Dr. Carey noted the exciting results but also cautioned enthusiasm given the very early stage of clinical testing as well as a variety of toxicities with the immune therapy.
Summary
There have been major advances in HER2- targeted therapies, but not every woman experiences the same success with these therapies. It is critical to identify biologic markers and refine clinical assessment to be able to predict which tumors require more aggressive therapies and to spare patients with low risk tumors unnecessary therapy.
Triple negative breast cancers remain a serious clinical concern with few treatment options. Identifying druggable targets is challenges due to the heterogeneous nature of TNBC tumors. There is enthusiasm for the progress being made in immune therapies for some subtypes of TNBC and early trial results show promise for the future.