BCRF and longtime partner Delta celebrate 10 years of Taking Flight for the Fight with special guest Amy Robach
One by one, they boarded the plane. Many were cancer free, some were still in treatment and others, like pilot Deborah Johnson, were newly diagnosed.
But for the 145 women aboard  Delta's signature pink plane, this would be no ordinary flight. The women, all Delta employees, were taking flight for the fight against breast cancer on the airline's annual survivor flight. This tradition, which Delta launched as part of its partnership with BCRF, honors employees affected by breast cancer and kicks off the airline's efforts for Breast Cancer Awareness Month.
This year, Delta celebrated the 10th anniversary of its survivor flight with a very special guest: Good Morning America anchor, BCRF ambassador and breast cancer survivor Amy Robach.
Emotions were running high as the Delta employees boarded "Breast Cancer One"—a Delta Boeing 767 with BCRF founder Evelyn Lauder's signature emblazoned on its side—at Atlanta's Hartsfield-Jackson International Airport. Decked out in head-to-toe pink, the women, including flight attendants, corporate employees and senior management, were all smiles as they buckled up and prepared to head to New York.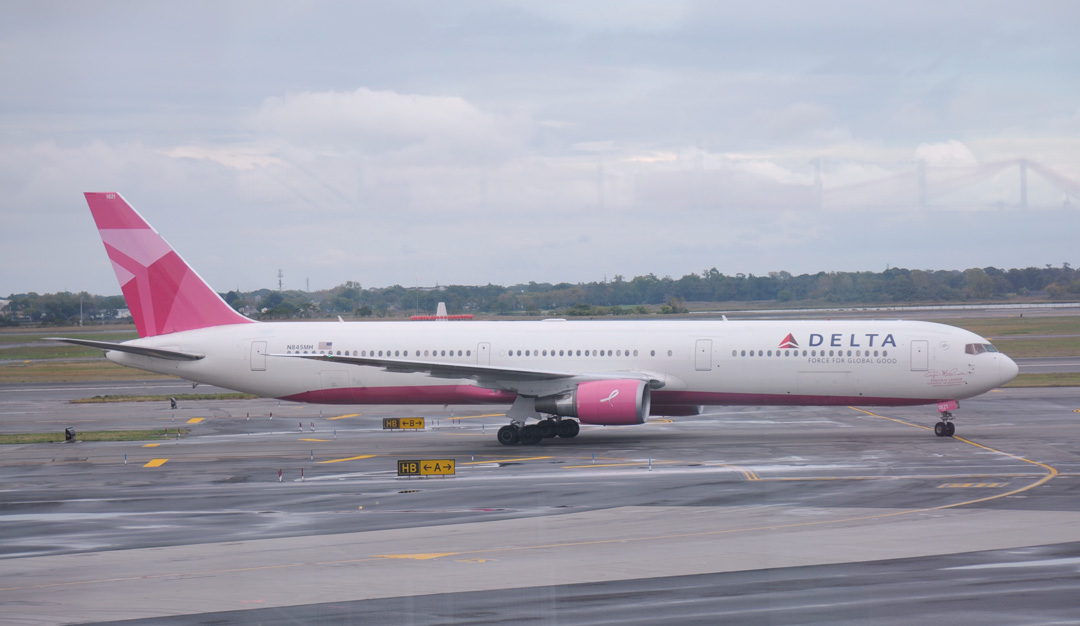 The women, who had flown in from across the country for the company-wide event, were enjoying their first-class treatment when a flight attendant came on the intercom with a special announcement: "I just realized that I think we're short a flight attendant on today's flight. What's this? Good Morning America anchor and breast cancer survivor Amy Robach!"
As soon as Robach stepped on to the plane, the women jumped to their feet and the plane resounded with screams of laughter and excitement. Robach, who was dressed in Delta's iconic pink flight attendant uniform which is reserved for the month of October, was greeted with hugs and high fives as she made her way down the aisles to talk to each and every one of the women.
As Breast Cancer One prepared for takeoff, Robach enthusiastically stepped into her role as an honorary flight attendant,  assisting with the safety demonstration before joining in on the festivities. For the duration of the flight, Robach, BCRF President Myra Biblowit and the Delta employees shared their personal stories of the disease that affects 1 in 8 American women. Survivors doled out advice to women undergoing treatment while others praised Delta and BCRF for championing the research that brought forth the treatments that helped them endure.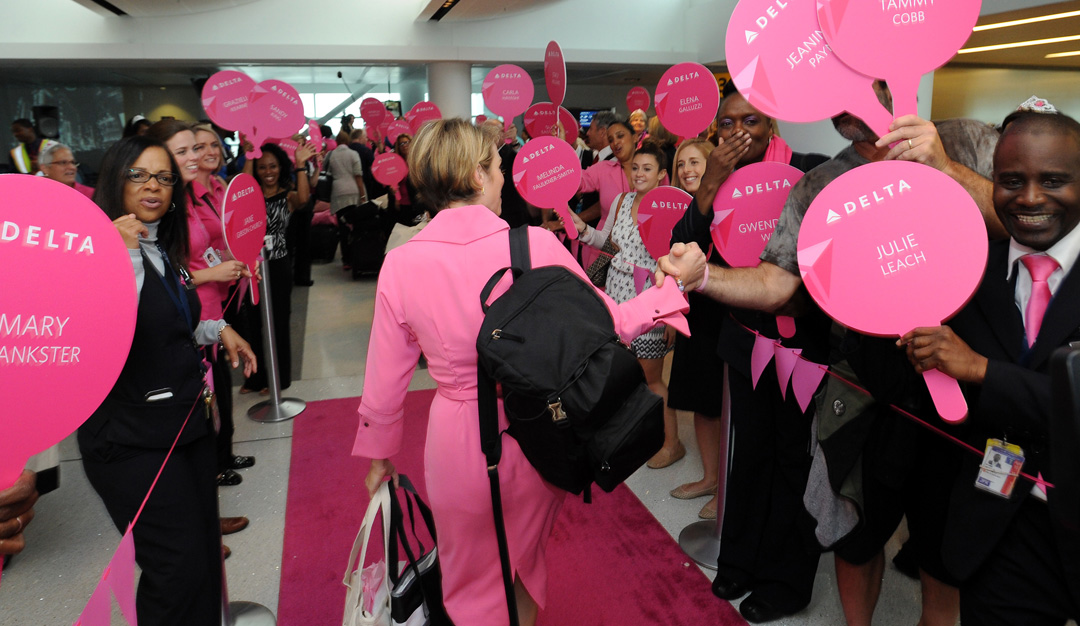 "My mother had breast cancer so I have always supported this cause, but I didn't know the extent of Delta's commitment or how far BCRF research has come in making this disease close to curable," said Deborah Johnson. A Delta pilot for 17 years, Johnson was diagnosed with breast cancer just four weeks ago. "Being new to breast cancer, I look at it as an uphill battle. But knowing that Delta and BCRF have supported the research that has minimized the harshness of my treatment is amazing. Of all the things in this world, I'll take this and smile my way through it."
Since partnering with BCRF in 2005, Delta has raised more than $7.9 million to fund 31 research projects and support five researchers who hail from Michigan to the United Kingdom. All 80,000 of the airline's employees, starting with President Richard Anderson, who lost his mother to breast cancer at a young age, are united in their passion for finding a cure through research.
As the flight prepared for landing, Sara Bareilles' "Brave" played over the speakers and the Delta employees began to dance and sing along. The song has become an anthem for many of the women, including Robach. There were tears quelled by group hugs, but mostly there were smiles as Breast Cancer One arrived at New York's John F. Kennedy International Airport.
Walking off the plane, the women were welcomed to New York by their fellow employees and a youth choir singing "Ain't No Mountain High Enough"—a perfect close to a day that celebrated life, gratitude and the value of community.