On October 1, the annual flight embarked on its first international route to mark the airline's global reach
This year marked Delta Air Lines' 11th annual and first-ever international survivor flight where more than 140 employees impacted by the disease flew from New York City to Mexico City on the airline's  newly painted pink plane.
The flight, which celebrated survivorship and Delta's commitment to advancing breast cancer research, took place on October 1.  Delta executives, employees and customers as well as President and CEO of BCRF Myra Biblowit and Chief Partnerships Officer Christina Rose were on board to commemorate the milestone event.
"It's incredible to see the passion behind the Delta employee survivors year after year," said President and CEO of BCRF Myra Biblowit. "Their spirit truly reflects why we are determined to be the end of breast cancer."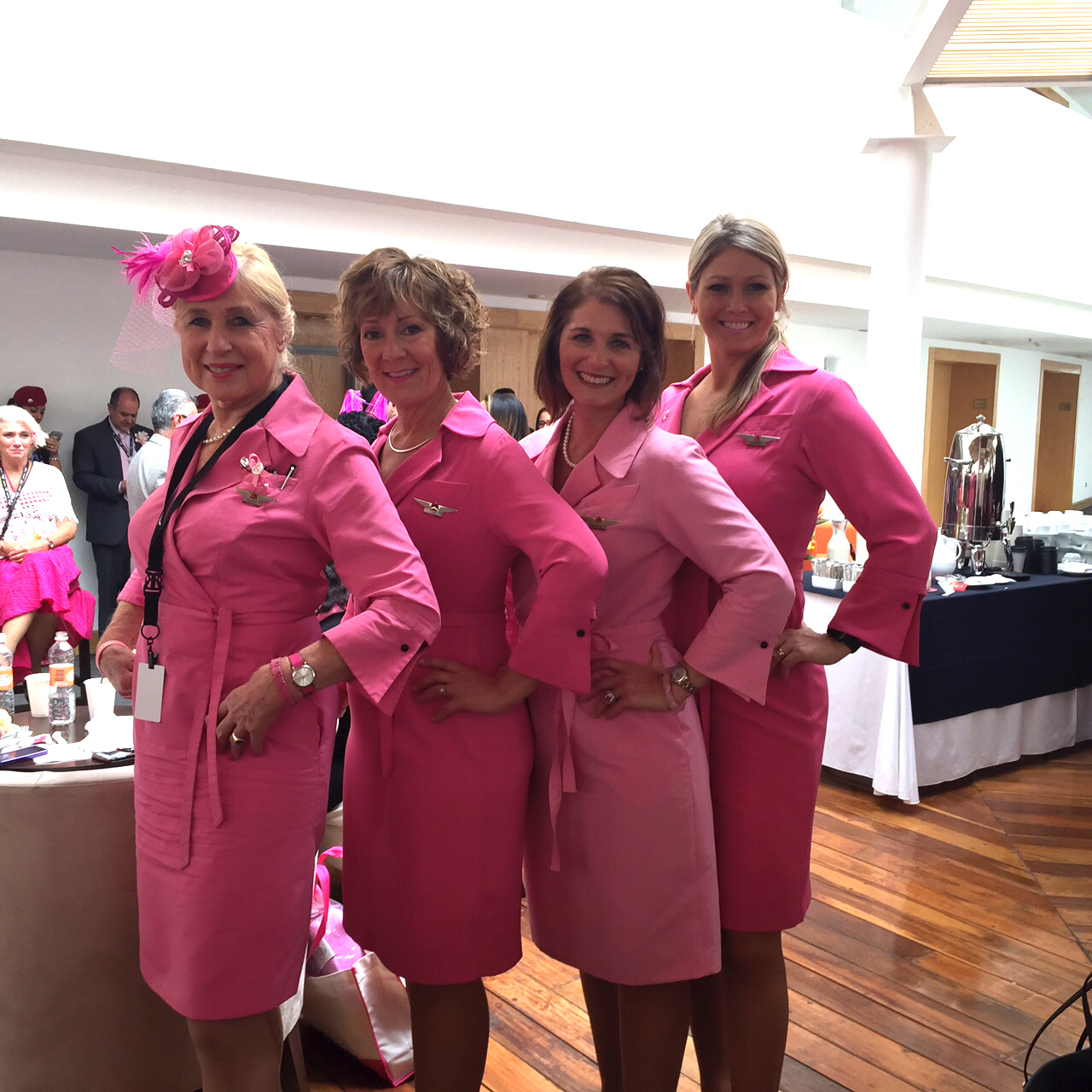 Festivities began at a gatehouse event in John F. Kennedy International Airport where passengers were welcomed to the celebration of life. Once on board, survivors shared stories about their 'unsung heroes': the spouses, partners, family and friends who helped them through their breast cancer diagnoses, while Delta executives served their coworkers as flight attendants – much to the passengers' amusement – providing food service.
In Mexico City, passengers were treated to an overnight stay, which included dinner and a meet-and-greet with BCRF grantee and one of Delta Air Lines Award recipients Dr. Sofia D. Merajver.
"I think about you everyday when I go to the lab. It is a huge honor to be with you," Dr. Merajver told the crowd inside the Aeromexico hangar in Mexico City.
A BCRF grantee for over a decade, Dr. Merajver's research focuses on identifying which cells within a tumor metastasize – specifically examining the tumor microenvironment to better understand the molecular processes responsible for metastases and why these cancer cells migrate to specific organs.  
"Look out for your brothers and your sisters next to you. Not everyone has access to the same medical care that you do," she said, urging those who have been affected by breast cancer to become advocates for others. "Nobody is better than you – you are the survivors, you know it best."
Since 2005, Delta employees, customers and their friends and family members have raised $9.2 million for BCRF, including last year's donations of $1.3 million. The collective contributions have funded the vital work of 37 different research projects over the years.
It is this global reach that the dedicated corporate partner wanted to highlight at this year's event.
"As Delta continues to focus on expansion in Latin America and the Caribbean, we are proud to showcase on a global scale, our commitment to finding a cure," said Sandy Gordon, Vice President – In-Flight Service. "Delta employees across the globe are united in their passion and support for BCRF and its critical mission of finding a cure for breast cancer and we are grateful to our employees and customers for their continued support."
To further raise support for breast cancer research throughout the month of October, Delta employees will wear pink uniforms and sell pink products, including pink lemonade and pink headsets, on board and in Delta Sky Clubs which benefit BCRF.
Learn more about Delta Air Lines and BCRF here.